Cosa serve ai Philadelphia 76ers per completare il Process?
Riusciranno i giovani e talentuosi Philadephia 76ers a compiere il passo decisivo per arrivare a giocarsi realmente il titolo NBA? Se sì, chi deve essere inserito nel processo così che possa realizzarsi adeguatamente?
"Nessuno può colpire duro come fa la vita, perciò andando avanti non è importante come colpisci, l'importante è come sai resistere ai colpi, come incassi e se finisci al tappeto hai la forza di rialzarti. Così sei un vincente!"
Così Rocky Balboa incitava il figlio a non arrendersi di fronte alle intemperie e alle difficoltà sopra il ring. Non è un caso che il celebre personaggio provenga dalla city più popolosa della Pennsylvania. Proprio nella città dell'amore fraterno l'insegnamento del boxer è estendibile alla squadra che ha da poco concluso una stagione entusiasmante con una pesante sconfitta, i Philadelphia 76ers. Il team di Brett Brown segue ormai da tempo il fattore Process. Finalmente quest'anno si sono potuti raccogliere i primi frutti di una possibile dinastia eretta dall'ex GM Hinkie.
Si provi a pensare a cosa sono stati i Philadelphia 76ers nell'ultimo decennio. Grazie ad un superbo Andre Iguodala, i Sixers hanno ottenuto quattro apparizioni ai playoffs tra il 2007 e il 2011 condite da una semifinale di Conference. Dal 2012 buio pesto. Record perennemente negativi (il peggiore risale alla stagione 2015/2016: solamente 10 vittorie con ben 72 sconfitte), una strategia volta ad ottenere i migliori prospetti, speranze affidate ad un futuro incerto. Una situazione tutt'altro che motivante.
Ma Hinkie ed Embiid lo sapevano. "Trust the Process" diventa il motto della rivalsa, una medicina da iniettare per tornare ai livelli competitivi che la città si merita. Così giungiamo all'anno 2018: 35 vittorie e 11 sconfitte per una squadra guidata dal favorito al premio di rookie dell'anno, Ben Simmons. La volata finale di 16-0 nei mesi marzo-aprile, appena prima dei PO, è segnale di cambiamento mentale per un gruppo che prende le conformazioni di un mix perfetto di giovani e mestieranti che collaborano alla perfezione.
Il 63,4% di vittorie ottenute da Embiid e co. nella RS (3a posizione a Est) è un dato che funge da testimone della metamorfosi avvenuta in Pennsylvania. L'ultimo paragone a livello di franchigia è il 68,3% della stagione 2000-01. Ad ottenerlo furono i 76ers di The Answer che conclusero i playoffs con le Finals poi perse contro i Los Angeles Lakers di Kobe&Shaq. Ripensando ai migliori anni sorgono spontaneamente delle questioni. Riusciranno i giovani e talentuosi Sixers a compiere il passo decisivo per arrivare a giocarsi realmente il titolo NBA? Se sì, chi deve essere inserito nel processo così che possa realizzarsi adeguatamente?
Ci sono 3 aspetti fondamentali da tenere a mente per rispondere in maniera soddisfacente a questi interrogativi. Prima di analizzare queste variabili, occorre specificare il contesto in cui i Philadelphia dovranno raggiungere il loro obiettivo di completamento del Process. Nell'era del Re, dei ragazzi della Baia, del duo Barba-Paul in the Space City e di una Titletown che mescola dosi di talento futuribile con esperienza e stelle di spessore, "bisogna sapere incassare i colpi nella maniera giusta così da avere la forza di rialzarsi dopo essere finiti al tappeto".
PHILADELPHIA 76ERS: STELLE
Ogni team che aspira al titolo deve averne almeno una per riuscire ad alzare il Larry O'Brien Trophy. Di questi tempi, ne servirebbero due, a meno che nel roster della tua squadra non è inserito il nome di LeBron James. A proposito del numero 23, varie franchigie si faranno avanti per accaparrarsi il talento di Akron nella free agency della prossima estate, tra queste la dirigenza dei Sixers difficilmente non si presenterà all'appuntamento. Lo spazio salariale, infatti, non manca.
Qualsiasi sarà la squadra prescelta da LBJ avrà come obiettivo principale la conquista del titolo. In un contesto come quello di Philadelphia, LeBron e la sua leadership sarebbero più che funzionali per compiere il salto di qualità decisivo. Re o non Re, nella stagione estiva non mancheranno di certo le personalità appetibili tra coloro che attendono un contratto. Chi tra questi è maggiormente compatibile con il Process?
L'indiziato principale è Paul George: con Indiana è arrivato in finale di Conference, con i 76ers potrebbe aspirare seriamente al raggiungimento del gradino successivo. Il talento in scadenza con i Thunder sarà una pedina attenzionata da varie squadre a luglio, ma solo il progetto migliore verrà preso in considerazione da PG. Chissà se proprio quello di Colangelo convincerà il free agent. Una cosa è certa: a sostenere il recruiting della dirigenza dei Philadelphia 76ers vi sarà un Joel Embiid voglioso di vincere.
YOUTH
In attesa di potere godere appieno del germoglio di Markelle Fultz, sono Embiid e Simmons i giovani da cui ci si aspetta una crescita esponenziale e progressiva nel tempo. I due talenti hanno buone probabilità di diventare decisivi nella Lega entro le prossime due annate.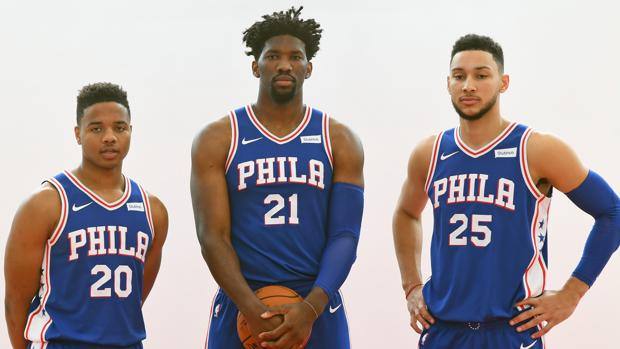 Il più che probabile vincitore del premio Rookie of the Year, Ben Simmons, ha avuto un ruolo fondamentale nell'evoluzione del gioco di Phila. L'ha plasmato con visione, velocità e atletismo: spaziature, tiro da tre punti e fast shots sono diventati il credo dei 76ers. E quando ciò non viene messo in atto? No problem, palla in post a Joelone Embiid. Le medie di punti (22.9), rimbalzi (11) e partite giocate (63 su 82), oltre che un'espressa personalità dentro e fuori dal parquet certificano il centro nigeriano come assoluto all-star della stagione di Philly.
La storia non è molto dissimile da quella dei GSW: partire da zero e far crescere internamente i propri gioielli attraverso la nascita di un sistema vincente. Il passo successivo è quello di un inserimento dall'ambiente esterno, così da ottenere una maturità tale da poter competere seriamente con la concorrenza qualitativa che si sta affermando nell'attuale contesto NBA.
L'obiettivo è autoresponsabilizzarli in contemporanea ad una crescita di squadra. Non solo Joel, Ben e Markelle anche Dario Saric è un'ala grande che sta sviluppando il suo gioco in funzione del team. Per adattarsi il classe 1994 croato ha incrementato il numero di tiri fuori dall'arco, e proporzionalmente anche la percentuale (+9% rispetto alla scorsa annata da tre). Tutto ciò a discapito di una presenza più marginale sotto canestro: il rischio è quello di risultare un gradino più in basso, proprio per questo aspetto, rispetto ai pari ruolo. Ma è giovane ed è facile pensare che possa solo migliorare nel perfezionamento di queste e altre caratteristiche di gioco. Così come è naturale immaginarsi un lavoro intensivo di Simmons nel tiro e di Embiid nell'equilibrio durante questa offseason. Il fattore giovinezza non è, perciò, da sottovalutare. Prima di vincere bisogna ottenere una maturazione completa, spetta a loro decidere come e quando metterla in mostra al mondo intero.
ESPERIENZA DEI ROLE PLAYERS
J.J. Redick è risultato fondamentale affinché in quest'annata si potesse celebrare il battesimo dei Philadelphia 76ers. Grazie al suo inserimento, il gioco dei Sixers si è evoluto splendidamente: vantano il quarto pace (numero di possessi per partita) dell'intera lega e sono la quarta miglior difesa. Numeri di un team che ama divertirsi e fare divertire con una notevole fluidità di gioco e una preferenziale tendenza al tiro da tre punti.
In questo contesto, Redick si è affermato come leader maximo in situazioni difficili, Robert Covington il miglior role player dell'NBA, T.J. McConnel il soldatino a cui affidare il pallone nei momenti in cui non serve nient'altro che il cuore, mentre Ersan Ilyasova è nella versione produttiva dei migliori anni di Milwaukee. Infine, per le ultime 25 gare più i playoff, un ruolo chiave è stato assunto anche da Marco Belinelli. Giocatore di esperienza in uscita dalla panchina, all'occorrenza decisivo, come è accaduto molteplici volte nelle ultime uscite di Phila.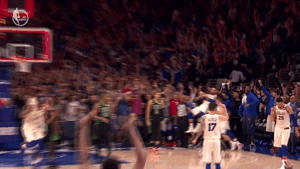 Il confetti shooter di Marco Belinelli per l'overtime dei suoi Philadelphia 76ers
Belinelli, Reddick e Ilyasova diventeranno FA l'1 di luglio. Se il primo ha esplicitamente dichiarato di voler continuare il matrimonio con Philly, il secondo e il terzo non si sono ancora espressi sul loro futuro. Per l'ex giocatore dei Clippers, l'unico problema è quello del contratto: ha chiesto 23 milioni la scorsa stagione e si dovrà accontentare di una somma inferiore se vuole continuare il suo percorso con the Process. Covington (10 milioni) e McConnel (1.6 milioni) continueranno invece ad apportare il loro contributo nella città dell'amore fraterno. Quali altri pezzi può aggiungere Phila per coadiuvare la giovinezza con l'esperienza?
Considerando che Trevor Booker (9 milioni) e Amir Johnson (11 milioni) saranno liberi in estate, Phila avrà estremamente bisogno di un'ala grande di spessore sotto i ferri, insieme ad un'ala piccola e una guardia, preferibilmente tiratrici. Compatibili con il sistema di Brett Brown, dal mercato si può attingere a:
Derrick Favors: ha messo in mostra il suo potenziale difensivo in questi playoff mettendo in seria difficoltà Melo. Anche offensivamente ha dimostrato di poter portare il suo contributo. Se il sistema che lievita attorno a lui funziona, sa come imporsi a dovere.
Greg Monroe: può aggiungere sostanza ed esperienza con la sua costante presenza sotto canestro.
Avery Bradley: nome caldo di questa free agency che fa ingolosire parecchi GM. Le pretese saranno alte, ma a Phila un giocatore così serve come il pane.
Trevor Ariza: Uno dei sacrificati a Houston potrebbe essere lui. Gli attacchi dei Rockets non sono molto dissimili da quelli dei Sixers. Il suo inserimento porterebbe dunque un rendimento quasi certo.
Dwyane Wade: il suo carisma e la sua esperienza creerebbero un entusiasmo elevatissimo. E' possibile un matrimonio del genere?
Jamal Crawford: sperando che non sia quello dell'ultima annata, altalenante quanto deludente. La tipologia di gioco è molto simile a quella di Markelle Fultz. L'accoppiata si toglierebbe 18 anni, ma sarebbe più che allettante per una second unit.