LeBron James-Lakers: cinque compagni di squadra che miglioreranno di più con il Re
LeBron James è pronto ad offrire i suoi servigi in qualità di miglior giocatore del mondo alla sua nuova squadra
LeBron James-Lakers il matrimonio è andato a buon fine, ed ora? L'essere compagni di un mostro sacro della palla a spicchi, quale è il signor LeBron James, comporta numerosi vantaggi. La sola presenza del Re in squadra catalizza l'attenzione di gran parte dei mass media, facendo salire l'attenzione su tutta la franchigia di cui egli fa parte.
Negli ultimi 8 anni passati tra Cleveland e Miami, ai compagni di squadra di James è stato garantito sempre l'accesso alle NBA Finals. Nonostante non tutti si siano entusiasmati della presenza del Prescelto in squadra, la stragrande maggioranza dei suoi vecchi compagni ha dichiarato apertamente la sua leadership.
Ora, nella sua nuova squadra dei Los Angeles Lakers, LeBron James potrà nuovamente provocare l'ondata di effetti benefici che da sempre lo hanno accompagnato. Ecco i 5 giocatori che potrebbero migliorare con il suo supporto
5. EFFETTO LEBRON JAMES-LAKERS: JAVALE MC GEE (C)
VANTAGGIO PRINCIPALE: FACILE GIOCO IN ATTACCO
All'età di 30 anni, McGee è ancora un giocatore abbastanza atletico da garantire un'ottima presenza sia in difesa che in attacco. La sua taglia lo rende un elemento determinante a rimbalzo: elemento che a James è sempre mancato durante la sua permanenza ai Cleveland Cavaliers.
Nei suoi due anni agli Warriors, coach Kerr ha fatto il possibile per rendere le cose semplici per il lungo. Il suo minutaggio, in effetti, è stato basso (9,6 minuti a serata), ma se si considera un minutaggio di 36 minuti, le statistiche di McGee assumono valori degni di nota (20,8 punti, 11,0 rimbalzi e 3,3 stoppate per partita).
I suoi compiti offensivi a Los Angeles dovrebbero essere gli stessi accanto a James. Pick and roll, lavoro da bloccante con compiti di rifinitore di tutti i tiri sbagliati dai compagni che graviteranno dalle sue parti. In particolare, per quest'ultimo aspetto, secondo il sito di NBA ,dei suoi 136 tiri totali 108 sono stati eseguiti mediante layup o schiacciate.
Intervistato da ABC7, McGee si è dichiarato entusiasta della possibilità di giocare in squadra con James
Sono assolutamente emozionato. E' un grande giocatore, sicuramente porterà un impatto positivo sulla squadra. Sarà sorprendente
4.EFFETTO LEBRON JAMES-LAKERS: KENTAVIOUS CALDWELL-POPE (G)
VANTAGGIO PRINCIPALE: CONTRATTO IN SCADENZA NEL 2019
Come già detto in precedenza, molti compagni di squadra di James hanno beneficiato della sua presenza. Basti pensare nel 2016 ai casi di Mozgov e DellaVedova, i quali dopo aver vinto il titolo virarono verso altri lidi ottenendo contratti economicamente migliori. DellaVedova, in particolare, ha ottenuto un contratto da $38 milioni per 4 anni con i Bucks, mentre Mozgov con i Lakers per un contratto di $64 milioni.
In passato, Caldwell Pope sembrava orientato ad ottenere un contratto al massimo salariale con i Detroit Pistons. All'inizio della sua carriera, infatti, sembrava un giocatore destinato ad essere un ottimo compagno per le ali della squadra. Dopo la parentesi a Detroit, senza aver ottenuto il contratto al massimo salariale, ora si accinge ad iniziare la seconda stagione ai Lakers.
Questo campionato potrebbe essere fondamentale per Caldwell-Pope: in mancanza di spazio a livello salariale per firmare una seconda Superstar, i Lakers potrebbero scegliere di rifirmare l'ex Pistons, qualora effettuasse una stagione soddisfacente. In questo senso, è rilevante il fatto che Caldwell-Pope è rappresentato dalla stessa agenzia di James, la Klutch Sports.
Giocare al fianco del Prescelto dovrebbe aiutare Caldwell-Pope a migliorare il suo gioco complessivo, e di conseguenza anche le sue condizioni contrattuali.
3.EFFETTO LEBRON JAMES-LAKERS: JOSH HART (PG/G)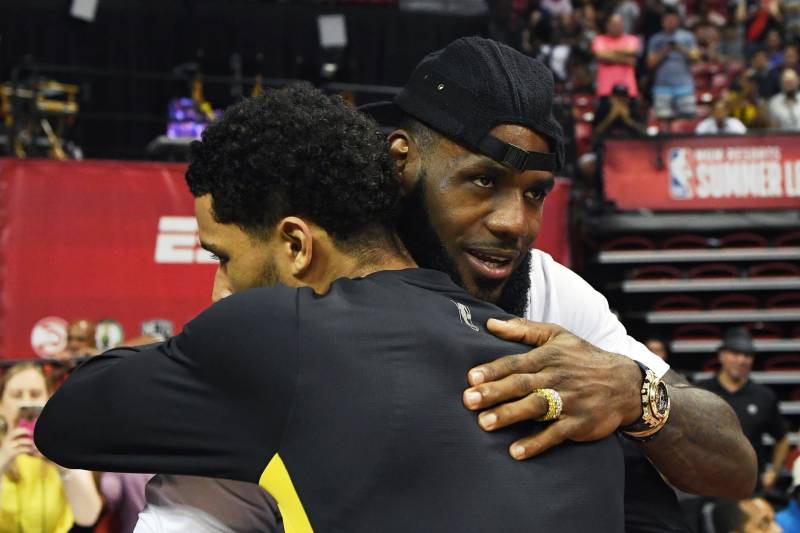 VANTAGGIO PRINCIPALE: OTTIMO CATCH AND SHOOTER
Josh Hart ha mostrato, durante la recente Summer League, notevoli miglioramenti del suo gioco, tanto da ricevere il premio di MVP della manifestazione e i complimenti di gran parte degli addetti ai lavori, LeBron James compreso.
Non è chiaro, allo stato attuale, quale sarà il suo ruolo in squadra. E' probabile che Lonzo Ball e Caldwell Pope saranno il reparto guardie titolari, mentre Hart avrà importanti minuti da sesto uomo. Il ruolo attribuitogli da coach Walton durante la scorsa stagione è stato semplice: aprire il campo ed allargare le spaziature mediante l'uso di triple in campo aperto. Secondo le statistiche, infatti, oltre la metà dei suoi tiri totali (197/375) provenivano da oltre l'arco dei 3 punti. Il 23 enne, in particolare, ha realizzato il 39,6% dei suoi tiri da 3, facilitato anche dal suo 41% nei tiri c.d. catch and shoot. 
La maggior parte di questi tiri non sono però arrivati con l'ausilio di Lonzo Ball, ma attaccando in transizione, specie nei momenti in cui Ingram, Kuzma o Randle non erano in campo. Riuscirà a James a fare lo stesso?
Hart, se migliorerà nella condivisione delle spaziature quando sarà in campo con James, potrà incrementare i suoi numeri, già impressionanti allo stato attuale.
2.EFFETTO LEBRON JAMES-LAKERS: LONZO BALL (PG)
VANTAGGIO PRINCIPALE: LEADERSHIP E VISIONE DEL GIOCO
Lonzo Ball e James sembrano condividere già diverse caratteristiche. Entrambi, infatti, sono ben contenti di voler coinvolgere i compagni nella costruzione del gioco, prima di pensare ai propri numeri.
In particolare, lo stesso Prescelto si è dichiarato ammiratore del gioco del figlio di Lavar Ball all'inizio della stagione scorsa
Può giocare la palla? Assolutamente si, il ragazzo ci sa fare. I compagni vogliono giocare con lui? Assolutamente si, perché è un ragazzo che non pensa solo a sé stesso ma al successo di squadra
LeBron ha sempre desiderato avere un compagno di squadra del genere in squadra, in grado di saper passar bene la palla. L'anno scorso i play dei Cavs (George Hill, Isaiah Thomas, Jose Calderon e Derrick Rose) non erano in grado di svolgere questo compito. Anche Kyrie Irving non ha mai eccelso in questo aspetto, preferendo puntare più sul suo tiro.
James può spingere Lonzo in palestra ad allenarsi sia sul suo fisico che sulle sue doti di passatore, migliorando il suo grado di altruismo. Il figlio di Lavar non sarà mai un realizzatore micidiale, ma può migliorare notevolmente le capacità visive possedute dal Prescelto e tentare di emulare la sua leadership.
1.EFFETTO LEBRON JAMES-LAKERS: BRANDON INGRAM (SF)
VANTAGGI PRINCIPALI:MENO PRESSIONE E PERFEZIONAMENTO DELLO STILE OFFENSIVO
Prima dell'approdo di James ai Lakers, Ingram sembrava destinato a diventare il leader dei Lakers. A soli 20 anni, infatti, è riuscito a mettere insieme statistiche davvero importanti:
16,1 punti
5,3 rimbalzi
3,9 assist
Anche se probabilmente a prescindere dall'arrivo di James la sua crescita sarebbe continuata, gestire una franchigia così importante come Los Angeles non è compito semplice per un giocatore così giovane. LeBron, togliendo la pressione ad Ingram, permetterebbe a quest'ultimo di migliorarsi ed affinare le sue qualità.
Anche Magic Johnson, intervistato da ESPN, ha ritenuto dell'importanza che potrà assumere il Re per Ingram
Voglio mettere lui [Ingram] in campo con LeBron tutti i giorni ad Agosto, a Settembre. Se necessario metterli vicini anche in aereo o in autobus. Questi giovani non avevano fino ad ora un veterano in grado di insegnarli la vittoria: ora abbiamo con noi il miglior giocatore del mondo. Brandon Ingram ha le qualità e le caratteristiche per poter ricevere tutti i benefici possibili da LeBron James
La presenza di James in campo con Ingram consente a quest'ultimo di migliorare il suo gioco offensivo. Durante la scorsa stagione, l'ala dei Lakers era 19° per percentuale di tiri in isolamento (14,2%), trovandosi spesso nell'uno contro uno contro abili difensori quali George, Antetokounmpo e Derozan, ottenendo scarsi risultati. Con James queste percentuali sicuramente miglioreranno, ed Ingram non dovrà più isolarsi così tanto.
Il Prescelto dovrà lasciare che il giovane Laker migliori le sue qualità offensive ma anche i suoi movimenti al di fuori dalla palla.