Free Agency NBA 2019: guida alle mosse di mercato delle franchigie
Con il concludersi della offseason 2018, le varie franchigie NBA pensano già a come muoversi per la Free Agency 2019
Free Agency NBA 2019: errore di battitura? No, l'anno è corretto. Volta quasi al termine ormai la offseason 2018, gran parte degli addetti ai lavori hanno proiettato la loro attenzione sulla prossima free agency. In particolare, gli analisti hanno individuato le principali caratteristiche che contraddistingueranno l'offseason del prossimo anno
Prossimi Free agent
Opzioni contrattuali presenti
Stipendi non garantiti 
Salary Cap 
Rischi principali 
Obiettivi
Domande più urgenti
Ecco, nel dettaglio, le previsioni effettuate per la prossima estate per ogni singola franchigia NBA
1.FREE AGENCY NBA 2019: ATLANTA HAWKS
Free agent: Justin Anderson (limitato),Dewayne Dedmon (clausola Bird),Tyler Dorsey (clausola Bird), Jeremy Lin
Opzioni da esercitare: Kent Bazemore (giocatore),DeAndre Bembry (squadra),John Collins (squadra),Taurean Prince (squadra)
Stipendi non garantiti: nessuno
Salary Cap: possibilità di realizzare un contratto al massimo salariale
Principale rischio: Dewayne Dedmon
Obiettivo realistico: Myles Turner( free agent limitato)
Domande più frequenti:John Collins ha bisogno di un partner di gioco importante?
Gli Atlanta Hawks dovranno innanzitutto cercare di alleggerire il carico di stipendi, per tentare di acquisire un giocatore importante. In tal senso, una scelta ottimale sarebbe puntare su un lungo: Dewayne Dedmon, infatti, non rappresenta un adeguata garanzia, e John Collins deve curare meglio le sue potenzialità difensive. Su quest'ultimo, in particolare, emerge un dato significativo: secondo Cleaning the Glass, infatti, Atlanta ha concesso più di 113 punti ogni 100 possedimenti con lui in campo. Stesso ragionamento può essere fatto anche per Taurean Prince: con l'ala in campo, gli Hawks hanno ceduto più di 118 punti su 100 possessi.
Tra i prossimi free agent, la franchigia della Georgia potrebbe puntare verosimilmente a nomi del calibro di Myles Turner, centro degli Indiana Pacers, che ha mostrato buoni numeri fin dal suo approdo nella NBA.
2.FREE AGENCY NBA 2019: BOSTON CELTICS
Free agent: Al Horford (opzione giocatore), Kyrie Irving (opzione giocatore),Marcus Morris,Terry Rozier (free agent limitato),Daniel Theis (clausola Bird ristretta)
Opzioni da esercitare: Aron Baynes (giocatore),Jaylen Brown (squadra),Jayson Tatum (squadra)
Stipendi non garantiti: Jabari Bird,Semi Ojeleye,Guerschon Yabusele (opzione squadra)
Dead Money: Demetrius Jackson ($92 857)
Salary Cap: Probabilità di pagare la Luxury Tax per il Salary Cap
Principale rischio: Kyrie Irving
Obiettivo realistico: Wesley Matthews
Domande più frequenti: Kyrie avrà la voglia di rimanere a Boston in caso di sconfitta?
I Boston Celtics, in caso di conferma di Horford,Irving e Rozier,supereranno i $150 milioni di monte ingaggio. E' molto probabile, dunque, che qualcuno tra questi dovrà levare le tende.
Uno dei ruoli che forse subirà maggiori cambiamenti sarà quello del playmaker. Con le ultime dichiarazioni di Chris Mannix, che parlava di un Kyrie Irving possibile partente la prossima stagione, non è del tutto scontato che i maggiori indiziati a rimanere a Boston siano Marcus Smart e Terry Rozier.
Anche se i Celtics sono, allo stato attuale, la terza forza della Lega, l'ex play dei Cavs potrebbe cercare stimoli altrove. Secondo vari rumors, infatti, Jimmy Butler sarebbe interessato ad unirsi all'attuale playmaker di Boston, magari in squadre come New York o Brooklyn.
In ogni caso, una volta messa in ordine la franchigia, Danny Ainge potrebbe mettere a segno il colpo Wesley Matthews. La guardia dei Dallas Mavericks, in particolare,darebbe quell'apporto difensivo in grado di far compiere un ottimo upgrade alla squadra allenata da Brad Stevens.
3. FREE AGENCY NBA 2019: BROOKLYN NETS
Free Agent: DeMarre Carroll,Ed Davis (non-Bird),Spencer Dinwiddie,Jared Dudley, Kenneth Faried,Rondae Hollis-Jefferson (limitato),D'Angelo Russell(limitato)
Opzioni da esercitare: Jarrett Allen (squadra), Cris Levert (squadra)
Stipendi non garantiti: Shabazz Napier, Treveon Graham
Salary Cap: Possibilità di mettere sotto contratto almeno due contratti al massimo salariale
Principale rischio: Spencer Dinwiddie
Obiettivo realistico: Jimmy Butler
Domande più frequenti: Quanto valgono i free agent della squadra realmente?
I Brooklyn Nets si trovano, allo stesso tempo, in una situazione invidiabile ma anche difficile. Rinunciando a tutti i prossimi free agent, il front office dei Brooklyn potrebbe offrire un contratto da almeno $60 milioni, ma occorre capire quali, tra i giocatori sopra richiamati, siano da non confermare.
In tal senso, la separazione con Carroll, Faried e Dudley appare lo scenario più probabile, in qunto giocatori non compatibili con il sistema di Atkinson. Al contrario, le conferme di Russell, Dinwiddie e Rondae Hollis Jefferson appaiono più comprensibili. Rifirmare due tra questi potrebbe significare un notevole aumento di livello del roster, mentre confermare tutti e tre creerebbe non pochi problemi all'obiettivo primario di ingaggiare una superstar.
Nonostante questo, il coach Atkinson e il general manager Sean Marks hanno creato un sistema di gioco molto efficiente, in grado di attirare molti giocatori. Jimmy Butler, infatti, potrebbe approdare nella franchigia anche senza l'aiuto di un compagno All Star.
4.FREE AGENCY NBA 2019: CHARLOTTE HORNETS
Free Agent: Frank Kaminsky (limitato), Jeremy Lamb,Kemba Walker
Opzioni da esercitare: Bismack Biyombo (giocatore), Michael Kidd-Gilchrist (giocatore), Marvin Williams (giocatore)
Stipendi non garantiti: Willy Hernangomez,Dwayne Bacon, Tony Parker
Salary Cap: Situazione non eccezionale
Principale rischio: Jeremy Lamb
Obiettivo realistico: Terrence Ross
Domanda più frequente: Sono in fase di ricostruzione o vogliono ancora tentennare?
Dare una concreta previsione del futuro di Charlotte è un operazione non facile. La prossima estate potrebbe essere quella giusta in grado di dare la svolta alla franchigia di Jordan, anche se questo evento sarebbe dovuto già accadere quest'anno. In particolare, la dirigenza Hornets non ha provveduto a scambiare né Walker, l'unico giocatore in grado di far ottenere contropartite interessanti, né il pesante contratto di Batum, il quale non è stato all'altezza delle prestazioni offerte a Portland.
Naturalmente, ciò che gli Hornets dovrebbero fare è molto diverso da quello che effettivamente faranno. Mantenere l'andamento mostrato sinora comporterà, quasi sicuramente, la conferma di gran parte del nucleo del roster, senza grandi aggiornamenti.
Tra i cambiamenti, uno che potrebbe effettivamente realizzarsi sarà nel ruolo di guardia: confermare Jeremy Lamb, infatti, potrebbe risultare piuttosto deleterio. In tal senso, ingaggiare la guardia di Orlando Terrence Ross potrà rappresentare una buona mossa, per quanto non eccezionale.
5.FREE AGENCY NBA 2019:CHICAGO BULLS
Free Agent: Ryan Arcidiacono (clausola Bird ristretta), Justin Holiday (clausola Bird), Robin Lopez, Cameron Payne (limitato), Bobby Portis (limitato)
Opzioni da esercitare: Kris Dunn (squadra), Lauri Markannen (squadra), Denzel Valentine (squadra)
Stipendi non garantiti: Omer Asik ($3 milioni), Jabari Parker (opzione squadra)
Salary Cap: dipendente dalla situazione di Parker
Rischio principale: Justin Holiday
Obiettivo realistico: Terry Rozier (limitato)
Domande più frequenti: Jabari Parker sarà "noleggiato" solo per questa stagione o è un ingaggio a lungo termine?
La scelta di Parker potrebbe condizionare il mercato dei Chicago Bulls. Oltre a Parker, rinunciare a Omer Asik e agli altri potenziali free agent, potrebbe fruttare un tesoretto da $25 milioni. D'altronde, l'ex Bucks finora non ha risposto in maniera positiva alle attese poste su di lui dall'inizio della sua carriera NBA.
Indipendentemente dalla volontà dell'ala piccola, uno degli obbiettivi principali della franchigia della città del Vento sarà sistemare il ruolo del playmaker. Kris Dunn, infatti, seppur ha dimostrato di aver sviluppato un buon pick and roll, ha comunque sofferto minutaggi sempre più alti. Cameron Payne merita un ruolo importante, ma non può essere la risposta a tutti i problemi. Infine, Zach Lavine, riconfermato questa estate, non è un playmaker.
Uno dei principali obiettivi potrebbe risultare essere, in tal senso, Terry Rozier, qualora i Celtics decideranno di rifirmare Irving e Smart. Nello specifico, il play dei Celtics sarà probabilmente il pezzo pregiato della prossima free agency nel ruolo di playmaker.
6.FREE AGENCY NBA 2019:CLEVELAND CAVALIERS
Free Agent: Sam Dekker (limitato), Channing Frye, Larry Nance Jr. (limitato)
Opzioni da esercitare: Ante Zizic (squadra)
Stipendi non garantiti: George Hill ($1 milione), Kyle Korver ($3,9 milioni), J.R. Smith ($3,9 milioni)
Rischio principale: Larry Nance Jr.
Obiettivo realistico: Kelly Oubre Jr.
Domanda più frequente: Si sta procedendo direttamente verso l'era post-James?
La firma di Kevin Love di qualche settimana fa ha reso ancora più incerti i piani di Cleveland per la seconda era dopo James. I contratti non garantiti di Hill, Korver e Smith mantengono, allo stato attuale, i Cavaliers ad un margine di manovra abbastanza ridotto. Rinunciando a tutti loro, invece, potrebbero fruttare $32,8 milioni di risparmio alla franchigia dell'Ohio. Tale risparmio potrebbe ulteriormente aumentare in caso di mancata conferma di Dekker e a Nance.
Se Cleveland avrà sufficiente spazio salariale, potrà puntare tutti i suoi sforzi ad un ala piccola. Allo stato attuale, infatti, Cedi Osman e David Nwaba non possono rappresentare delle concrete garanzie.
7. FREE AGENCY NBA 2019: DALLAS MAVERICKS
Free Agent:JJ Barea;,Dorian Finney-Smith (limitato); DeAndre Jordan, Maxi Kleber (clausola Bird),Wesley Matthews,Salah Mejri,Dirk Nowitzki
Opzioni da esercitare: Dennis Smith Jr. (squadra)
Stipendi non garantiti: Ryan Broekhoff,Ray Spalding
Salary Cap: Un contratto al massimo salariale
Rischio principale: Deandre Jordan
Obiettivo realistico: Jimmy Butler (opzione giocatore)
Domanda principale: Quanto costa Deandre Jordan?
La free agency di Deandre Jordan svolgerà un ruolo importante per dare un indirizzo concreto ai Dallas Mavericks la prossima estate. Non possiedono i suoi diritti Bird, in quanto lo hanno "incastrato" in un accordo da un anno, ma avranno la forza economica sufficiente per poterlo rifirmare, anche a misure più vantaggiose.
L'obiettivo principale sarà sicuramente una guardia. E non una qualunque, ma un certo Klay Thompson, il quale però sicuramente rinnoverà ad un prezzo stracciato con i Golden State Warriors. Per tale motivo, uno dei nomi più caldi sarà Jimmy Butler, sempre più lontano da Minnesota e frustrato dalla coesistenza in squadra con dei ragazzi poco maturi.
I Mavs, inoltre, potrebbero anche scegliere di pazientare per un altro anno, attendendo la conclusione dei contratti di Harrison Barnes e di Dwight Powell nel 2020 e sfruttando la crescita di Doncic e Smith Jr.
8.FREE AGENCY NBA 2019: DENVER NUGGETS
Free Agent: Trey Lyles (limitato), Isaiah Thomas
Opzioni da esercitare: Malik Beasley (squadra); Juan Hernangomez (squadra); Jamal Murray (squadra); Tyler Lydon (squadra)
Stipendi non garantiti: Paul Millsap (opzione di squadra)
Salary Cap: Piuttosto ristretto ma comunque utilizzabile
Obiettivo realistico: Danny Green
Domanda più frequente: Dovrebbero entrare in competizione per acquisire una superstar?
Non sarà facile per i Nuggets riuscire ad ottenere quello spazio salariale necessario per puntare ad una Superstar, ma l'impresa non è impossibile. Declinando l'opzione di Millsap e non confermando Lyles, si potrebbe già compiere una buona mossa in tal senso. Altre operazioni da compiere potrebbero riguardare altri contratti pesanti ed inutili, quali ad esempio quello di Mason Plumlee.
Nonostante questo, comunque, Denver dovrebbe confermare anche giocatori quali Jokic, Harris e Murray: ciò attesterebbe la squadra del Colorado ad una free agency di medio livello. In modo particolare, uno degli acquisti a cui potrebbe puntare Denver sarebbe Danny Green: non più un giovane promettente, ma un veterano in grado di dare contributo sia in attacco che in difesa.
9.FREE AGENCY NBA 2019: DETROIT PISTONS
Free Agent:Jose Calderon; Stanley Johnson (limitato); Zaza Pachulia; Ish Smith
Opzioni da esercitare: Henry Ellenson (squadra); Glenn Robinson III (squadra)
Dead Money: Josh Smith (($5.331.729)
Salary Cap: Piuttosto pessima
Rischio principale: Stanley Johnson
Obiettivo realistico: Justin Holiday
Domanda più frequente: Manterranno questo nucleo?
I Detroit Pistons, la prossima stagione, non avranno grandi spazi di manovra a livello salariale. La situazione, poi, potrebbe divenire insostenibile qualora il trio Drummond-Griffin-Jackson non garantisse nuovamente l'accesso ai playoff.
Una delle questioni principali che riguardano il roster della città dei motori è quella inerente Stanley Johnson. L'ala piccola, durante la scorsa stagione, ha mostrato segni di miglioramento nelle sue statistiche:
8,7 punti
3,7 rimbalzi
1,6 assist
37,5 FG%
L'ulteriore sviluppo del prodotto del draft 2015, sopratutto nel suo tiro da fuori, potrebbe incrementare le sue richieste economiche: in quest'ottica, free agent più economici alla portata di Detroit sono Justin Holiday, Thabo Sefolosha e Iman Shumpert.
10.FREE AGENCY NBA LIVE 2019: GOLDEN STATE WARRIORS
Free agent: Jordan Bell (clausola Bird ristretta); Quinn Cook (clausola Bird ristretta); DeMarcus Cousins; Kevin Durant (opzione giocatore); Jonas Jerebko; Kevon Looney; Klay Thompson
Opzioni da esercitare: Damian Jones (squadra)
Stipendi non garantiti: Shaun Livingston ($2 milioni)
Rischio principale: Demarcus Cousins
Obiettivo realistico: Thabo Sefolosha
Domanda più frequente: Cosa farà Kevin Durant?
Demarcus Cousins si trova in una situazione obbligata. Gli Warriors, infatti, potranno offrirgli solo il 120% dello stipendio di questa stagione, ovvero $6,4 milioni. Qualora rimanesse anche nella stagione 2019-2020, qualcosa sarà andato storto nella Baia.
La questione più urgente, però, sarà il futuro di Kevin Durant. Secondo Zach Lowe, infatti, rumors vicini al numero 35 ritengono che KD un giorno "possa lasciare gli Warriors per una squadra che sia veramente sua". In quest'ordine di idee, sempre secondo il giornalista, i Knicks vorrebbero convincere l'ex OKC ad entrare nel Madison Square Garden da protagonista
Kevin Durant sarà il protagonista della Free Agency 2019. I rumors sui Knicks non sono falsi, loro stanno pianificando di portarlo lì nella prossima offseason
Aldilà di questa questione, gli Warriors dovranno cercare di sopperire all'inevitabile logorio fisico di Andre Iguodala e Shaun Livingston. Per assolvere a tale scopo, mossa importante sarebbe inserire nel roster un giocatore del calibro di Thabo Sefolosha, veterano NBA in grado di dare quel contributo offensivo e difensivo dalla panchina fondamentale.
11. FREE AGENCY NBA 2019:HOUSTON ROCKETS
Free agent: Carmelo Anthony; Michael Carter-Williams; James Ennis (opzione giocatore); Gerald Green (clausola Bird)
Opzioni da esercitare: Nene (giocatore)
Stipendi non garantiti: Zhou Qi, Isaiah Hartenstein
Salary Cap: relativamente poco flessibile
Rischio principale: James Ennis
Obiettivi realistici: Wilson Chandler
Domanda più frequente: Com'è la situazione nel reparto ali nella stagione 2018-2019?
Gli Houston Rockets hanno suscitato molto scalpore non puntando sui rendimenti di Trevor Ariza e di Luc Mbah a Moute. Nonostante le presenze nel roster di James Ennis e di P.J. Tucker, le altre ali non si avvicinano al valore di questi ultimi.
Houston spera che nel 2019-2020 il carosello delle ali sia migliorato, o che il general manager Daryl Morey possa imbastire una trattativa per provare ad acquisire Kent Bazemore. Firmare un grande nome, con questa situazione, è fuori discussione: gli stipendi di Gordon, Capela, Anderson, Harden e Paul porteranno il monte ingaggi per l'anno prossimo a $132 milioni di luxury tax. Un obiettivo realistico, da firmare con la MLD exception, sarà quasi sicuramente Wilson Chandler, ala piccola estremamente versatile.
12. FREE AGENCY NBA 2019: INDIANA PACERS
Free agent: Bojan Bogdanovic (clausola Bird); Darren Collison (clausola Bird); Tyreke Evans; Cory Joseph; Kyle O'Quin; Myles Turner (limitato); Thaddeus Young
Opzioni da esercitare: TJ Leaf (squadra); Domantas Sabonis (squadra)
Stipendi non garantiti:  Ike Anigbogu; Alize Johnson
Dead Money:  Monta Ellis ( $ 2,245,400)
Salary Cap: Abbastanza rosea
Rischio principale: Thaddeus Young
Obiettivo realistico: Khris Middleton
Domanda più frequente: Sono una destinazione gradita per un free agent?
Riconoscere free agent quali Bojan Bogdanovic, Tyreke Evans, Darren Collison, Turner e Thaddeus Young porterebbe Indiana a schierarsi fuori dalla lotta per la supremazia dell'Est. D'altro canto, la scarsa appetibilità di Indiana come destinazione per i free agent, potrebbe indurre la dirigenza di Indianapolis a confermare gran parte del roster attuale, in modo particolare il centro Myles Turner.
Oltre a Middleton (il quale è desiderato molto anche dagli Wizards), altri possibili obiettivi per la franchigia possono essere Ariza, Danny Green, Mbah a Moute, Marcus e Markieff Morris.
13. FREE AGENCY NBA 2019: LOS ANGELES CLIPPERS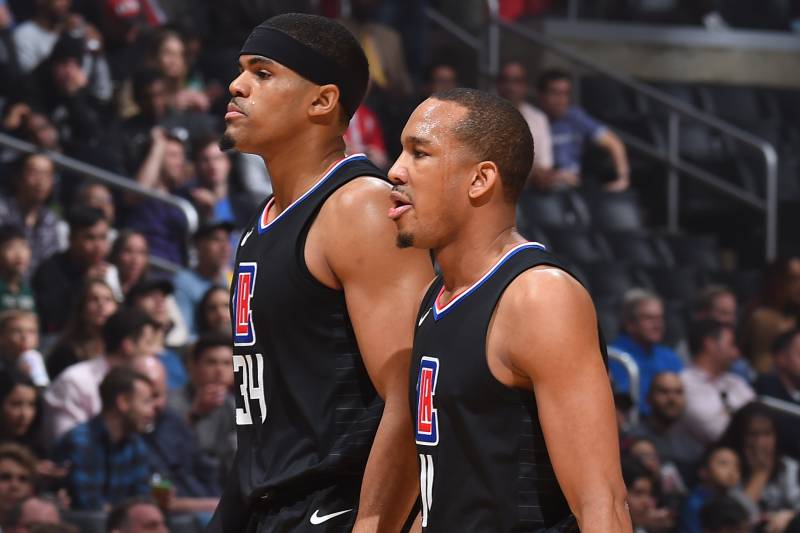 Free Agent: Patrick Beverley; Marcin Gortat; Tobias Harris; Wesley Johnson; Boban Marjanovic; Luc Mbah a Moute; Mike Scott ; Milos Teodosic (clausola Bird ristretta)
Opzioni da esercitare: Jawun Evans (squadra)
Stipendi non garantiti:  Avery Bradley ($ 2 milioni); Sindarius Thornwell
Salary Cap: possibilità di due Contratti al massimo salariale
Rischio principale: Tobias Harris
Obiettivo realistico: Kawhi Leonard
Domanda più frequente: Ricominciare o no?
I Clippers hanno sufficiente denaro per potersi permettere quel pezzo mancante in grado di migliorare il roster losangelino. Inoltre, la dirigenza biancorossa può permettersi anche di liberare $60 milioni di spazio salariale, mediante trade o rinunciando ai prossimi free agent.
In tal senso, importante sarà la decisione dell'obiettivo principale dei Clippers per la prossima stagione, ovvero Kawhi Leonard. Secondo Wright di ESPN.com, infatti, non è del tutto scontato l'approdo ai Lakers dell'ex giocatore degli Spurs. Nonostante questo, però, puntare all'ex San Diego State potrebbe risultare piuttosto deleterio: si pone in quest'ottica l'offerta di rinnovo a Tobias Harris.
14. FREE AGENCY NBA 2019: LOS ANGELES LAKERS
Free Agent: Michael Beasley; Kentavious Caldwell-Pope (clausola Bird); JaVale McGee ; Rajon Rondo; Lance Stephenson; Ivica Zubac (limitato)
Opzioni da esercitare:  Lonzo Ball (squadra); Josh Hart (squadra); Brandon Ingram (squadra); Kyle Kuzma (squadra)
Stipendi non garantiti:  Sviatoslav Mykhailiuk
Salary Cap: Sufficientemente ampia
Rischio principale: Kentavious Caldwell-Pope
Obiettivo realistico: Kawhi Leonard
Domanda più frequente: LeBron James è in grado di attrarre free agent?
Rinunciare quest'anno a svenarsi per ottenere un top free agent ha messo i Lakers sulla buona strada per ottenere il massimo spazio salariale durante la prossima stagione. In modo particolare, Johnson e Pelinka avranno libertà di ingaggiare uno tra Kevin Durant e Kawhi Leonard.
Nonostante questo, però, ci sono dubbi sulla possibilità effettiva di portare All Star nella ex squadra di Bryant. James, nello specifico, è sempre stato considerato come un buon reclutatore di giocatori, ma tale nomea ha subito diversi colpi questa estate. Irving, infatti, nel 2017 si è allontanato dai Cavs proprio a causa sua. Paul George ha anticipato la mossa del Prescelto di firmare con i Lakers, scegliendo di rinnovare con i Thunder. Infine, lo stesso Leonard ha lasciato trapelare di poter preferire anche i Clippers alla squadra gialloviola.
Nonostante questo, vari analisti NBA hanno rassicurato i tifosi Lakers per il futuro della franchigia. Quest'ultimo quindi, appare roseo come mai negli ultimi 5 anni: è stato ingaggiato il più forte giocatore del mondo e nel roster sono presenti tantissimi potenziali fenomeni.
15. FREE AGENCY NBA 2019: MEMPHIS GRIZZLIES
Free Agent: MarShon Brooks (clausola Bird); Omri Casspi; JaMychal Green; Andrew Harrison (limitato); Wayne Selden (limitato); Garrett Temple
Opzioni da esercitare: Marc Gasol (giocatore)
Stipendi non garantiti:  Dillon Brooks; Ivan Rabb ( $ 371,758)
Salary Cap: Si sono viste situazioni peggiori
Rischio principale: JaMychal Green
Obiettivo realistico: Wayne Ellington
Domanda più frequente: L'era Mike Conley-Marc Gasol è giunta al termine?
L'abbondanza di contratti a scadenza a corto raggio può indurre Memphis ad alleggerire il monte ingaggi anche durante la stagione, mediante scambi con altre squadre. Presumibilmente, però, soltanto la scadenza naturale degli accordi potrà dare delle risposte concrete sulla situazione in casa Grizzlies.
Mirare a Wayne Ellington con la mid level exception potrà risultare una mossa degna. A seconda del risultato della free agency di JaMychal Green e della salute di Chandler Parsons, i Grizzlies potrebbero anche aver bisogno di prendere dei buoni rincaìzi per la seconda unit.
16. FREE AGENCY NBA 2019: MIAMI HEAT
Free Agent:Wayne Ellington; Rodney McGruder (limitato); Justise Winslow (limitato)
Opzioni da esercitare: Bam Adebayo (squadra); Goran Dragic (giocatore); Hassan Whiteside (giocatore); Tyler Johnson (giocatore)
Stipendi non garantiti: Derrick Jones
Dead Money:  AJ Hammons ( $ 350,087)
Salary Cap: Situazione non troppo positiva
Rischio principale: Wayne Ellington
Obiettivo realistico: Rudy Gay
Domande più frequenti: Saranno negoziati tutti i più grandi contratti?
I Miami Heat non hanno attuato grandi cambiamenti questa estate in quanto non avevano significativi margini di manovra nel loro salary cap. L'anno prossimo sarà sostanzialmente la stessa storia, a meno che non vengano spostati i contratti più onerosi della squadra.
Goran Dragic: 1 anno, $ 19,2 milioni
James Johnson: 2 anni, $ 31,4 milioni
Tyler Johnson: 1 anno, $ 19,3 milioni
Kelly Olynyk: 2 anni, $ 26,7 milioni
Josh Richardson: 3 anni, $ 32,6 milioni
Dion Waiters: 2 anni, $ 24,8 milioni
Hassan Whiteside: 1 anno, $ 27,1 milioni
Le intese raggiunte con Dragic, Richardson e Olynyk potrebbero risultare positive per la dirigenza Heat. Tutti gli altri, invece, sono obiettivamente difficili da conciliare con le esigenze della franchigia. Cedere Whiteside e Tyler Johnson, inoltre,sarà più facile durante durante la prossima estate, quando i loro accordi con la squadra della Florida staranno giungendo alla naturale conclusione.
Rifirmare, infine, giocatori come Ellington, Mc Gruder e Winslow, potrebbe comportare un aumento importante del monte ingaggi oltre $140 milioni. In conclusione, non sarà un'estate facile per la squadra di Dwyane Wade.
17. FREE AGENCY NBA 2019: MILWAUKEE BUCKS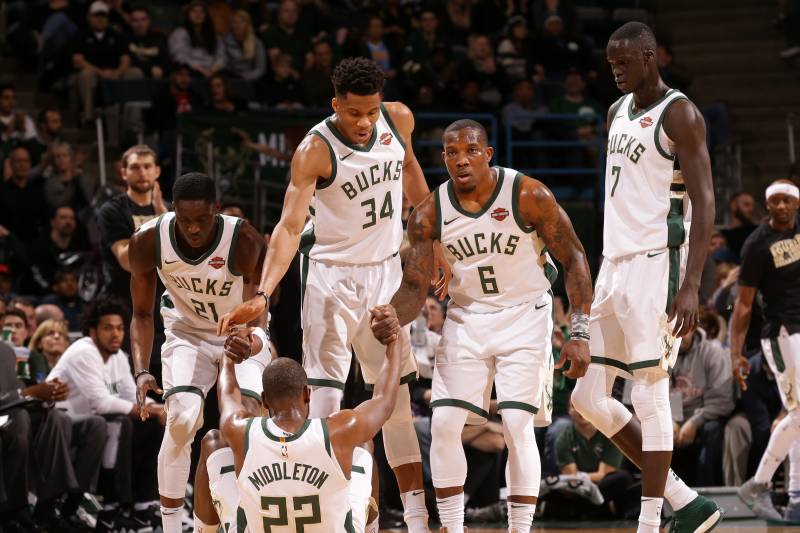 Free agent: Eric Bledsoe, Malcom Brogdon (limitato), Brook Lopez, Khris Middleton (giocatore)
Opzioni da esercitare: Thon Maker (squadra), DJ Wilson (squadra)
Stipendi non garantiti:  Sterling Brown; Pat Connaughton
Dead Money:  Spencer Hawes ( $ 2,007,058); Mirza Teletovic ( $ 3.500.000); Larry Sanders ( $ 1,865,546)
Salary Cap: Probabilità di Luxury Tax
Rischio principale: Khris Middleton
Obbiettivo realistico: Darius Miller
Domanda più frequente: Sono disposti a pagare la luxury tax?
La bordata della luxury tax non sarà un'opzione realistica qualora i Bucks decidessero di continuare a puntare sul nucleo di giocatori attuale. Del resto, anche risparmiando sui contratti di Bledsoe e Middleton ($22,5 milioni e $19,5 milioni), la franchigia del Wisconsin non otterrebbe significativi risparmi per poter puntare ad un grande colpo. Inoltre, scegliere di non continuare a puntare su giocatori molto utili alla causa Bucks a due anni dalla free agency di Antetokounmpo potrebbe rivelarsi un clamoroso autogol.
L'apice dei potenziali aggiornamenti per la squadra allenata da Budenholzer sarà, quindi, quasi sicuramente l'ingaggio di un ala piuttosto economico. Profilo rilevante, in tal senso, potrebbe essere Darius Miller. 
18. FREE AGENCY NBA 2019: MINNESOTA TIMBERWOLVES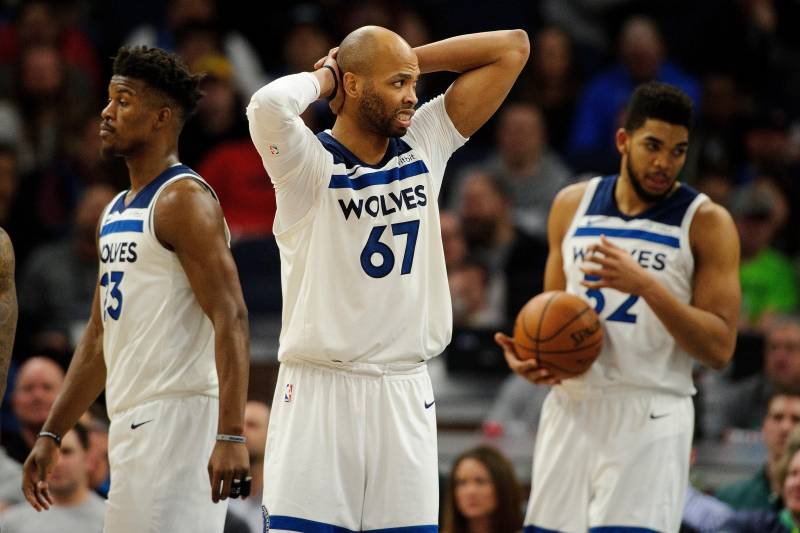 Free agent: Jimmy Butler (opzione giocatore); Taj Gibson (clausola Bird); Tyus Jones (limitato); Derrick Rose (clausola Bird); Anthony Tolliver; Karl-Anthony Towns (limitato)
Opzioni da esercitare: Justin Patton (squadra); Jeff Teague (giocatore)
Stipendi non garantiti:  nessuno
Dead Money:  Cole Aldrich ( $ 685,340)
Salary Cap: Dipende molto da Andrew Wiggins
Rischio principale: Jimmy Butler
Obiettivo realistico: DeMarre Carroll
Domanda più frequente: Possono convincere Jimmy Butler a rimanere?
La free agency della prossima estate non sarà tra le più memorabili per la franchigia del Minnesota, data la mancanza di spazio salariale per poter mettere a segno un grande colpo. L'unico obiettivo che il front office può realmente assumersi è il mantenimento dei giovani più promettenti (Tyus Jones e Towns su tutti) e liberarsi di altri giocatori piuttosto ingombranti dal punto di vista salariale (es. Derrick Rose).
Il pericolo principale per la squadra sarà, quasi sicuramente, la voglia di Butler di cambiare aria. La dirigenza dei Lupi deve tutelare i suoi interessi e non può assecondare i suoi interessi, né venderlo per accontentarlo, senza ottenere nulla di significativo in cambio.
Il presidente-allenatore Tom Thibodeau può compiere diversi compiti per poter garantire l'accesso ad un contratto mediante la Mid level exception. In quest'ottica, rinunciare al contratto di Tyus Jones potrebbe aiutare molto, ma questa minima duttilità potrebbe azzerarsi se Taj Gibson dovesse essere confermato (cosa piuttosto probabile).
In conclusione i Timberwolves possono aspirare a occasioni come DeMaree Carroll: giocatore non in grado di cambiare le sorti di una squadra ma molto utile e pratico.
19. FREE AGENCY NBA 2019: NEW YORK KNICKS
Free Agent: Kadeem Allen; Ron Baker (limitato); Trey Burke (Early Bird); Mario Hezonja; Enes Kanter; Luke Kornet (clausola Bird ristretta); Emmanuel Mudiay (limitato); Kristaps Porzingis (limitato); Noah Vonleh
Opzioni da esercitare: Frank Ntikilina (giocatore)
Salary Cap: Situazione piuttosto nebulosa, con possibilità di ingaggio di top player
Stipendi non garantiti:  Damyean Dotson; Lance Thomas ($ 1 milione)
Rischio principale: Trey Burke
Obiettivo realistico: Kyrie Irving
Domanda più frequente: Quanto spazio salariale occuperanno?
I Knicks hanno voglia di sognare in grande per la prossima free agency. Come già scritto in precedenza, infatti, secondo Lowe Durant è un obiettivo realistico per la franchigia della Grande Mela. Oltre a KD, poi, anche Irving sembra essere un potenziale giocatore dei Knicks.
In ogni caso, lo spazio di manovra per la squadra di Manhattan non sarà elevato. Nel roster, infatti, sono presenti diversi giocatori con un contratto piuttosto pesante, primo fra tutti Joakim Noah. Il centro ex Bulls, infatti, sarà a libro paga fino al 2021-2022 per $6,4 milioni. ma i Knicks sono pronti a sopportare quel colpo, secondo quanto riferito da Ian Begley.
Questo aspetto, da solo, non dà a NYK lo spazio salariale massimo. Rinunciando, infatti, a tutti i potenziali free agent per la prossima stagione (escluso Porzingis), il team potrebbe essere in corsa per uno tra Irving o Butler, ma non per Durant.
Inseguire sogni di grandezza con l'acquisizione di superstar non è una cattiva idea, ma forse la strada migliore da seguire per New York sarà confermare questo nucleo di giovani promettenti già presente nel roster, per poi buttarsi sull'occasione che il mercato NBA può offrire
20. FREE AGENCY NBA 2019: OKLAHOMA CITY THUNDER
Free agent: Alex Abrines (limitato); Raymond Felton (clausola Bird); Nerlens Noel (opzione giocatore); Patrick Patterson (opzione giocatore,clausola Bird)
Opzioni da esercitare: Terrance Ferguson (squadra), Timothe Luwawu-Cabarrot (squadra)
Salary Cap: Aspettando Dennis Schroder
Rischio principale: Nerlens Noel
Obiettivo realistico: James Ennis
Domanda più frequente: Il gm Presti ha ancora qualche asso nella manica?
Tradare Anthony verso gli Hawks non solo ha portato ad un risparmio molto ampio nel monte ingaggi dei Thunder, ma hanno anche portato dei giocatori (quali Dennis Schroder e Timothe Luwawu-Cabarrot) molto funzionali al sistema di gioco di Donovan. In sostanza, nel breve termine l'affare Anthony è stata una mossa molto azzeccata,
Gli stessi problemi,però, potranno riproporsi la prossima estate: qualora OKC decidesse di confermare Patterson e Abrines, infatti, la tabella stipendi potrebbe attestarsi ad un totale di $160 milioni, con oltre $28 milioni di luxury tax.
Rafforzare la squadra all'interno di questi vincoli finanziari appare dunque un'impresa ardua. In tal senso, un colpo auspicabile con la Mid level exception potrebbe essere James Ennis.
Il vero artefice del destino dei Thunder sarà, dunque, il gm Presti: soltanto lui potrà estrarre dal cilindro la soluzione in grado di poter davvero cambiare le sorti della franchigia.
21. FREE AGENCY NBA 2019: ORLANDO MAGIC
Free Agent: Khem Birch (clausola Bird ristretta); Jerian Grant (limitato); Jarell Martin (limitato); Terrence Ross; Nikola Vucevic
Opzioni da esercitare: Jonathan Isaac (squadra)
Stipendi non garantiti:  Isaiah Briscoe; Wesley Iwundu (opzione squadra); Jonathon Simmons ($ 1 milione)
Dead Money:  CJ Watson ( $ 333,333)
Salary Cap: Aspettando il 2020
Rischio principale: Terrence Ross
Obiettivo realistico: Spencer Dinwiddie
Domanda più frequente: Spenderanno soldi per un playmaker?
Per  essere una squadra così irrimediabilmente fuori dalla lotta per i playoff, i Magic hanno un libro paga piuttosto pesante. Orlando dovrebbe cercare di iniziare a svuotare le dispense dello spogliatoio: gente come Martin e Vucevic sono superflui, con Mo Bamba, Aaron Gordon e Jonathan Isaac presenti nel roster. Inoltre, dopo aver compiuto 28 anni, il rinnovo di Ross non si affianca al processo di ricostruzione che accompagna la franchigia della Florida.
Rinunciando a tutti i propri free agent i Magic avrebbero all'incirca $20 milioni di dollari da investire su un buon playmaker: profili ideali, in tal senso, risultano essere Malcom Brogdon, Spencer Dinwiddie o Russell, qualora quest'ultimo decidesse di non rinnovare con i Nets.
22. FREE AGENCY NBA 2019: PHILADELPHIA 76ERS
Free Agent: Jerryd Bayless; Wilson Chandler; Amir Johnson (clausola Bird); TJ McConnell; Mike Muscala; JJ Redick (clausola Bird);
Opzioni da esercitare: Markelle Fultz (squadra); Furkan Korkmaz (squadra); Dario Saric (squadra); Ben Simmons (squadra)
Stipendi non garantiti:  nessuno
Salary Cap: Massimi salariali e appeal massimo
Rischio principale: TJ McConnell
Obiettivo realistico: Kawhi Leonard
Domanda frequente: Questa volta saranno in grado di firmare una stella?
La mancanza di superstar nel roster per la prossima stagione non deve spaventare i tifosi Philly. I 76ers, infatti, sono ormai una solida realtà nella Lega, dopo anni di anonimato, e nella free agency 2019 potranno assoldare tanti ottimi giocatori in grado di far cambiare definitivamente rotta alla franchigia.
Uno degli obbiettivi a cui, molto probabilmente, la dirigenza di Philadelphia punterà sarà senz'altro Klay Thompson, una superstar con un basso profilo in grado di assicurare, al medesimo tempo, un micidiale tiro da tre punti ed una solidissima difesa. A giudicare dalle parole di Bob Myers, gm degli Warriors, però, ingaggiarlo non sarà per nulla facile
[…] Mi sento come se potessimo creare un posto che dà loro la possibilità di vincere un campionato, di essere pagati bene, di andare al lavoro tutti i giorni. La gente pensa che un giocatore NBA adori andare al lavoro ogni giorno. Se possiamo creare un posto dove i giocatori si divertono, la speranza è che vogliano continuare a farloqui.
I Sixers, quindi, salvo sorprese, punteranno quasi sicuramente a Kawhi Leonard o Jimmy Butler. Inoltre, avranno lo spazio sufficiente per poter confermare anche un giocatore fondamentale come J.J. Redick, il quale sarà pagato quasi sicuramente con un biennale da $35 milioni totali.
Tra i maggiori ostacoli che possono incombere vi è anche la free agency di TJ McConnell: quest'ultimo, infatti, non dovrebbe comportare particolari onerosità, ma Philadelphia dovrà capire quanta importanza dovrà dargli, specie se ha in squadra gente come Simmons e Fultz.
23. FREE AGENCY NBA 2019: PHOENIX SUNS
Free Agent: Trevor Ariza (clausola Bird); Darrell Arthur; Isaiah Canaan (clausola Bird); Tyson Chandler; Troy Daniels (clausola Bird); Richaun Holmes
Opzioni da esercitare: Dragan Bender (squadra); Marquese Chriss (squadra); Shaquille Harrison (squadra); Josh Jackson (squadra)
Stipendi non garantiti:  Davon Reed
Salary Cap: Solido, con prospettive di miglioramento
Rischio principale: Trevor Ariza
Obiettivo realistico: Malcom Brogdon
Domanda più frequente: Saranno pronti al successo?
L'offseason dei Suns inizierà probabilmente con la scelta di puntare ad uno tra Dragan Bender e Marquese Chriss. Operare anche sul contratto di Brandon Knight, poi, potrebbe creare ulteriore spazio salariale. Il dubbio principale, però rimane sull'aggressività che i Suns dovranno mostrare in sede di free agency.
Phoenix ha un buco spalancato nel ruolo di guardia, attualmente occupato da Knight, Booker e Jackson. Una delle mancanze principali avvertite, in tal senso, è la mancanza di esperienza, che anche nella free agency 2019 si sentirà apertamente. Fortunatamente per Phoenix, comunque, la franchigia ha tanto spazio salariale per poter firmare qualcuno, anche se individuare l'acquisto giusto non sarà facile.
25. FREE AGENCY NBA 2019: PORTLAND TRAIL BLAZERS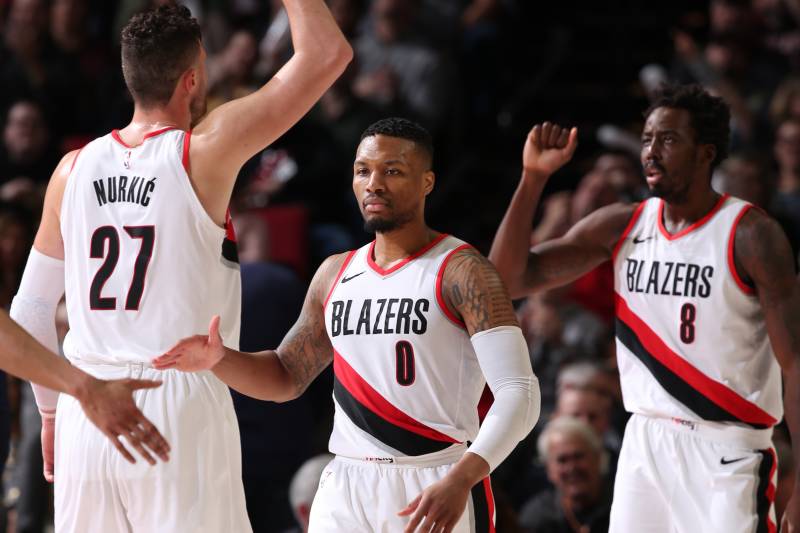 Free Agent: Al-Farouq Aminu; Wade Baldwin IV (clausola Bird); Seth Curry; Jake Layman (limitato); Nik Stauskas
Opzioni da esercitare: Zach Collins (squadra); Caleb Swanigan (squadra)
Stipendi non garantiti:  nessuno
Dead Money:  Festus Ezeli ( $ 333,333); Andrew Nicholson ( $ 2,844,430); Anderson Varejao ( $ 1,913,345)
Rischio principale: Al Farouq Aminu
Obiettivo realistico: Garrett Temple
Domanda più frequente: Damian Lillard e CJ McCollum saranno ancora insieme in città?
Apparentemente, l'approccio dei Blazers alla free agency 2019 dovrebbe essere tra le più semplici. Infatti, non avendo soldi sufficienti per intavolare rilevanti trattative, dovrebbero concentrarsi sopratutto sui propri free agent e sulla ricerca di giocatori abbastanza economici da poter ingaggiare.
A meno di clamorose novità, dunque, Portland ripeterà lo stesso ritornello suonato durante le scorse offseason. Una continuità che, in un mondo così dinamico quale quello NBA, non può che portare la franchigia dell'Oregon a pochissimi traguardi concreti.
A giudicare dalle parole di Marc Stein, poi, non è escluso che ci possano essere drastici cambiamenti, sopratutto con riferimento a Damian Lillard
Dato che in questa stagione Los Angeles, Denver e Dallas sono tutte migliori, non è escluso che le voci riguardanti Lillard possano davvero avere delle conseguenze reali.
Scambiare Lillard o CJ McCollum, dunque, non produrranno significativi cambiamenti nello spazio salariale, ma segnalerebbero un forte segnale di cambiamento dopo quasi 7 anni.
26. FREE AGENCY NBA 2019: SACRAMENTO KINGS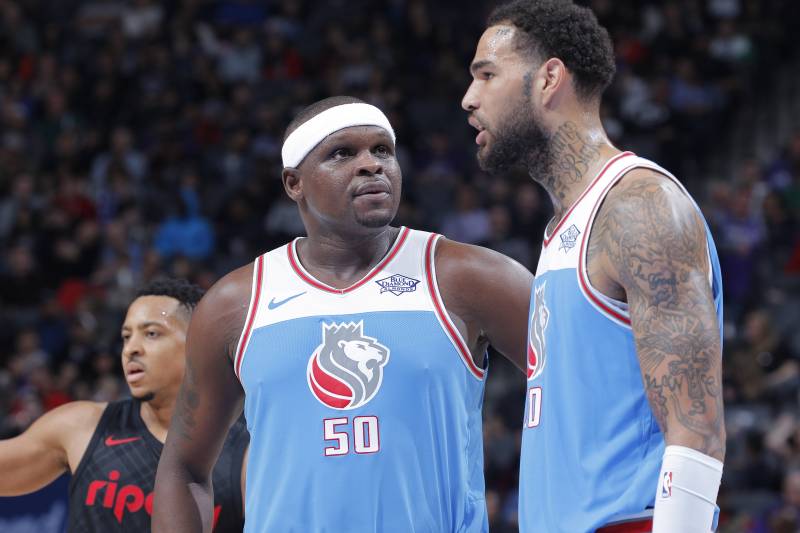 Free Agent: Willie Cauley-Stein (limitato); Deyonta Davis (limitato); Kosta Koufos; Ben McLemore (clausola Bird); Zach Randolph (clausola Bird); Iman Shumpert
Opzioni da esercitare: De'Aaron Fox (squadra); Harry Giles (squadra); Buddy Hield (squadra); Justin Jackson (squadra); Skal Labissiere (squadra);
Stipendi non garantiti:  Jamel Artis; Yogi Ferrell; Frank Mason
Dead Money:  Matt Barnes ( $ 2,133,541)
Salary Cap: Non sufficientemente ampio
Rischio principale: Willie Cauley-Stein
Obiettivo realistico: Justise Winslow
Domanda più frequente: Possono ottenere un'ala piccola davvero efficiente?
Il "fuori stagione" del Sacramento Kings nel 2019 dovrebbe essere piuttosto semplice. Avranno infatti accesso senza sforzo a $60 milioni nello spazio salariale, qualora rinunceranno a tutti i loro free agent e rimarranno particolarmente bassi su ali di talento. Di fatto, dovrebbero poi destinare una parte di quel denaro ottenuto ad un buono scorer.
Tutto questo, ovviamente, sulla carta. Perchè la franchigia in questione, i Kings, ci hanno abituato a numerosi colpi di testa.
Sono entrati questa estate con lo stesso vuoto nel reparto guardie-ali degli ultimi anni. Quindi, naturalmente, hanno preferito Marvin Bagley III, un ala grande, a Luka Doncic, un'ala anch'essa ma sicuramente più piccola, da 6'7″. Hanno poi proseguito la loro opera offrendo $78 milioni a Zach LaVine, una guardia, e poi hanno scambiato Garrett Temple, una specie di ala, per ottenere Ben McLemore, una guardia tiratrice che non dovrebbe però giocare da 3. Infine hanno firmato Nemanja Bjelica, il quale è notoriamente un 4.
Avere sufficiente spazio salariale è poco consolante in queste circostanze. I Kings dovrebbero provare a prendere   free agent ristretti come Justise Winslow, Stanley Johnson o Kelly Oubre Jr., facilitando gli stipendi e dando sufficientemente tempo per svilupparsi.
In ogni caso, Sacramento deve ancora dimostrare di poter aderire a una visione centrale ed univoca. E mentre avere un sacco di soldi li equipaggia per rompere questo ciclo, permette anche loro di indulgere ancora di più nel loro tipico comportamento incoerente.
27. FREE AGENCY NBA 2019: SAN ANTONIO SPURS
Free Agent: Dante Cunningham (clausola Bird); Manu Ginobili; Rudy Gay (clausola Bird)
Opzioni da esercitare: Dejounte Murray (squadra); Jakob Poeltl (squadra); Derrick White (squadra)
Stipendi non garantiti:  Pau Gasol ($ 6,7 milioni)
Salary Cap: Subottimale
Rischio principale: Manu Ginobili
Obiettivo realistico: Trevor Ariza
Domanda più frequente: Possono evitare un disastro nel dopo-Leonard?
Definire qualcosa di definitivo per l'offseason di San Antonio del 2019 sarebbe irresponsabile. Troppe variabili sconosciute, infatti, sono in gioco dopo la partenza di Leonard.
A partire da ora, gli Spurs inizieranno la prossima estate sia senza giocatori da considerare insostituibili e sia con nient'altro che l'eccezione di medio livello da spendere. Si tratterà di una ricerca di un veterano difensore e tiratore che sostituisca parte di ciò che è stato perso sia in Leonard che in Danny Green. Inoltre, Gregg Popovich potrebbe accompagnare Manu Ginobili nell'uscita di scena, ponendo così fine all'era Spurs degli ultimi 20 anni.
Ariza, Carroll, Tyreke Evans, Matthews e Terrence Ross sarebbero solo alcuni dei tanti nomi da guardare in questo scenario.
28. FREE AGENCY NBA 2019: TORONTO RAPTORS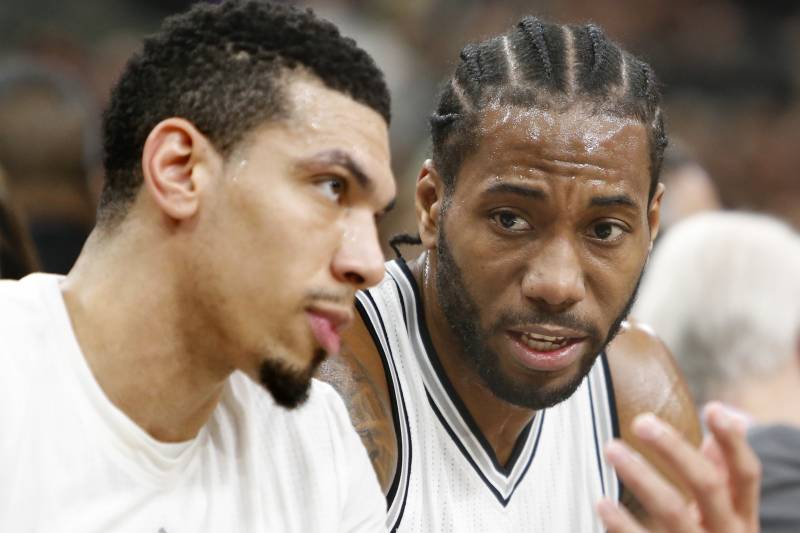 Free Agent: Danny Green; Kawhi Leonard (opzione giocatore); Delon Wright (limitato)
Opzioni da esercitare: OG Anunoby (squadra);  CJ Miles (giocatore); Pascal Siakam (squadra); Jonas Valanciunas (giocatore)
Stipendi non garantiti:  Malachi Richardson (opzione squadra)
Dead Money:  Justin Hamilton ( $ 1,000,000)
Salary Cap: Sufficientemente restrittivo
Rischio principale: Kawhi Leonard
Obiettivo realistico: Luc Richard Mbah a Moute
Domanda più frequente: Leonard rimarrà in Canada?
La offseason 2019 dei Raptors si svilupperà in base allo svolgimento di due possibili scenari, entrambi legati alla scelta che compierà Kawhi Leonard.
Rinnovare Leonard è la priorità numero uno per i Raptors. Questo mantiene la loro finestra Finali NBA spalancata e semplifica il processo di roster. Non avranno bisogno di nient'altro che piccole modifiche e aggiunte se Kawhow dovesse decidere di rimanere in Canada.
Almeno una o due altre ali diventerebbero un danno collaterale per il ritorno di Leonard. I Raptors dovrebbero impegnarsi a pagare la tassa per un vero contendente, ma stanno guardando a più di $150 milioni di stipendio se si confermano tutti. A meno che non si riesca a scambiare contratti in scadenza quali quello di Serge Ibaka o Jonas Valanciunas, due o tre tra Danny Green, CJ Miles, Norman Powell e Delon Wright potrebbero dover andare.
Nel secondo scenario, invece, i Raptors cambieranno rotta se Leonard fuggirà dal Grande Nord. Avendo, in questo caso, dei libri paga perfettamente puliti nel 2020, quindi, la prossima estate potrebbe diventare una questione di spargimento di salari, attendendo così un nuovo ed importante inizio.
29. FREE AGENCY NBA 2019: UTAH JAZZ
Free Agent: Alec Burks; Ricky Rubio; Thabo Sefolosha; David Stockton (clausola Bird ristretta); Ekpe Udoh
Opzioni da esercitare: Tony Bradley (squadra); Donovan Mitchell (squadra)
Stipendi non garantiti:  Derrick Favors; Raul Neto; Georges Niang; Royce O'Neale
Rischi principali:Ricky Rubio
Obiettivi realistici: Tobias Harris
Domande più frequenti: Le superstar sono disposte a trasferirsi a Salt Lake City?
Rinunciare a tutti i propri free agent e rinunciare all'affare non garantito di Derrick Favors darebbe i soldi necessari ai  Jazz per ottenere uno tra Butler, Leonard e Klay Thompson.
Posizionare, invece, le loro mire più in basso, permetterebbe ai Jazz di costruire comunque un roster piuttosto competitivo. Tenendo conto, infatti, dei rinnovi  di Favors o Rubio, Utah si toglierebbe dalle discussioni sulle Superstar, ma si lascerebbe delle possibilità su dei giocatori ottimali per il sistema, quali ad esempio Tobias Harris e Khris Middleton.
La franchigia di Salt Lake City ha tutte le sfumature per poter ambire a buoni traguardi, mediante un duo formato da campioni in erba quali Rudy Gobert, Donovan Mitchell, e un buffet di "api operaie" quali Jae Crowder e Joe Ingles.
30. FREE AGENCY NBA 2019: WASHINGTON WIZARDS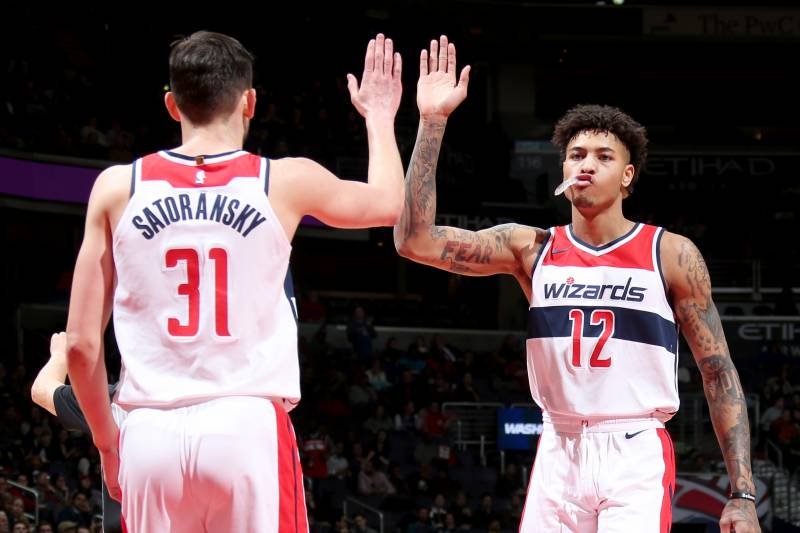 Free Agent:Thomas Bryant (clausola Bird ristretta); Jeff Green; Dwight Howard (opzione giocatore); Jodie Meeks (clausola Bird); Markieff Morris; Kelly Oubre Jr. (limitato); Austin Rivers; Tomas Satoransky (limitato); Jason Smith
Opzioni da esercitare: nessuna
Stipendi non garantiti:  nessuno
Salary Cap: Mantenere i Big Three potrebbe risultare costoso
Rischio principale: Kelly Oubre Jr.
Obiettivo realistico: Darren Collison
Domanda più frequente: I Big Three hanno raggiunto il loro picco?
Stessi problemi, offseason diversa. Il nucleo formato da Bradley Beal,Otto Porter Jr. e John Wall è stato sul punto di passare alla data di scadenza per almeno un anno. Sono stati aggiunti Dwight Howard, Jeff Green ed Austin Rivers, che hanno portato maggiore qualità e consistenza al roster,ma un'ulteriore uscita al primo turno dei playoff potrebbe portare ad un definitivo restyling. Lo stipendio di Wall sarà quasi il doppio, nel 2019-2020, di quello percepito attualmente. Inoltre, nella medesima stagione, Beal, Porter e Ian Mahinmi si uniranno per guadagnare complessivamente $107,9 milioni.
Cambiare i vari giocatori di ruolo non crea profondi cambiamenti sostanziali alla situazione salariale di squadra.Inoltre il trio Beal-Porter-Wall non è abbastanza buono da riuscire a trascinare un gruppo disomogeneo di contratti a qualcosa di speciale.
Utilizzando le mosse giuste, però, il front office dei Maghi potrebbe sbloccare l'eccezione di medio livello da usare su un valido rinforzo per la second unit. In ogni caso, con molte probabilità, la stagione 2018-2019 sarà l'ultima senza grossi stravolgimenti nella franchigia della Capitale.